As the spectacular and brilliant musical sensation Hadestown makes its way around the world on the Hadestown tour, it is a certainty that it will make its way through Los Angeles on a consistent basis. How long it stays each time is not certain, but it will get to at least two of the main theatres of not all three. You can expect to see the stunning Broadway Musical at the Ahmanson Theatre, Hollywood Pantages, and Dolby Theatre at some point.
The first stop in LA will take place at the Ahmanson Theatre from April 26th through May 29th of 2022. There will be other stops in 2023 and 2024.
Hadestown Los Angeles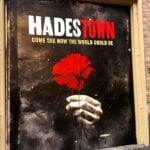 Broadway Musical sensation and multiple Tony Winner Hadestown is at the Ahmanson Theatre. Check out the Ahmanson Theatre seating chart and buy discount tickets today.
Event Meta
Start Date
October 3, 2023 7:00 pm
End Date
October 15, 2023 10:00 pm
Event Location
Street
135 North Grand Ave
History of Ahmanson Theater
Howard F. Ahmanson was the patron of the Ahmanson Theatre in Los Angeles. It was through his donation that the construction of the theater began. Howard F. Ahmanson was a wealthy and successful owner of H.F. Ahmanson & Co., a financial firm. Caroline Leonetti Ahmanson, Howard's second wife, was the inspiration behind the theater's naming. 
Construction of the structure began in 1962. In the inauguration of the theater, Los Angeles Civic Light Opera Association sponsored the cast of Man of La Mancha, a classic musical starring Richard Kiley and Joan Diener.
Landmark events
The most notable Broadway musical to run in Ahmanson Theater was The Phantom of the Opera. It was a stellar success, winning numerous awards after premiering. Ellerbe Becket Architects redesigned the theater in a major renovation project in 1994. A total investment of $17 million went into funding the renovation. It is presently managed by Center Theatre Group, with Michael Ritchie as the Artistic Director and Meghan Pressman as the Managing Director. The present structure can seat up to 2082 people.
How to reach and box office hours
The Ahmanson theater is located at 135 North Grand Avenue, Los Angeles, California. Patrons are generally directed to arrive at least 1.5 hours before the scheduled curtain time. Their rideshare pickup address is 218 N Hope St at the corner of W Temple Street. For cars, both self-parking and valet-parking options are available. As of September 2021, their walk-up sales office is not functional since their team is mostly working remotely due to the Covid-19 pandemic. They can be reached at 213.628.2772, between 10 am to 5 pm from Monday to Friday. Their season begins before fall and continues till the end of summer. 
2021/22 season and subscription packages
The 2021/22 season of Ahmanson Theater is packed with several well-received Broadway Operas. In their list of shows, the most illustrious names include Oklahoma!, Dear Evan Hansen, Come From Away, The Lehman Trilogy, Hadestown, and more. Ahmanson Theater has a very popular subscription plan available for theatergoers. Subscribers get up to 30% off on single tickets with additional benefits like discounted prices and exchange options. You can opt for a full-season subscription and also design your own subscription plan. They also have special subscription packages with complimentary post-show cocktail parties for people under 40. For families and teenage students, a backstage Club subscription is available with special access to actors, priority seats, and many other perks. 
When is Hadestown coming to Los Angeles?
The first stop in LA will take place at the Ahmanson Theatre from April 26th through May 29th of 2022.